Athlete List
Most Visited:
Kelly Sotherton
Kelly Holmes
Paula Radcliffe
Yelena Isinbayeva
Emily Pidgeon
F
Mo Farah
Jo Fenn
Svetlana Feofanova
Joanne Finch
Rebecca Finch
Laura Finucane
Megan Foley
David Forrester
Eden Francis
Camilla Freeman
Cathy Freeman
Bryony Frost
Kathryn Frost
Faye Fullerton

| | |
| --- | --- |
| Full Name: | Bryony Frost |
| Born: | DOB |
| Age: | ? |
| Lives: | Isle of Wight |
| Height: | ft in/m |
| Weight: | 48kg? |
| Event: | 2000m steeplechase |
| Club: | Isle of Wight AC |
| Coach: | ?NAME OF COACH? |
| County: | Hampshire |
| Family: | Identical twin sister Kathryn |
Personal Bests:
2000-2001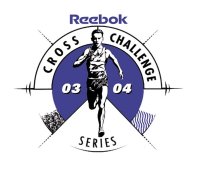 Nottingham Inter- counties - Bryony FROST (Hampshire), was 10th in the U17s race.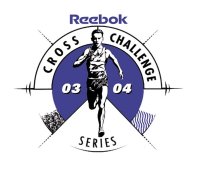 As an Under 17, she was 2nd in the series.
2001 Island Games - Bryony Frost who won Silver in the 1500m and Bronze in the 800m. Bryony was leading the 1500m until the final bend and was just beaten in the home straight. It was a determined effort from the 17 year-old who later said she was disappointed.

2002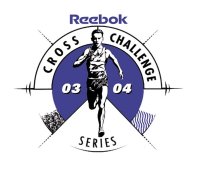 Nottingham Inter- counties - Bryony Frost (Hampshire), improving from last year to 5th in 24:10 in the U20s race.
English Schools Cross Country Championships, Chelmsford: Senior Girls
Into the teeth of the gale, once she got into the up-hill finishing straight, Sally Oldfield was able to stretch away from the Reebok Inter-Counties Under 17 Charlotte Moore (Bournemouth AC), the Frost twins Bryony and Kathryn (Isle of Wight AC) and the amazingly consistent Charlotte Wickham (Gateshead Harriers), who has remained to the fore through the age groups. Bryony came away with the Bronze medal in a time of 16:01.
2003

Bryony won the U20s race at the Hampshire cross-country championships in January.
REEBOK CHALLENGE - CARDIFF

Bryony Frost, third and fourth in Cardiff, made the front page of a tabloid newspaper and BBC breakfast television.

The Frosties, as they have become known — twins, blonde and undeniably pretty — have a contract with adidas that others of similar ability can only envy, but reports that they rejected a million-pound modelling contract to concentrate on their athletics careers are denied by the family. What is admitted is that they remain committed and ambitious in their chosen sport.

"Their heads could have been turned," Sheila Frost, their mother, said. "Adidas wanted them to do something this Wednesday but it is a big training day and they had to say no." Their sights are set on the trials next month for the World Cross Country Championships, but, most of all, on representing Britain in the steeplechase at the European Junior Championships next summer.
When the Frosts finished first and second in the Hampshire Cross-country Championships in January, they were one of five sets of identical twins representing the Isle of Wight club.

Bryony, first, and Kathryn, second, led the under-20 age group. They are Britain's best-known twin athletes of the present generation because their pin-up looks have earned them a lucrative sponsorship deal with adidas. As Sheila Frost, their mother, said: "They have got bright, lively, faces and heads turn when they come into a room."

Their sponsors' hope is that the twins will realise their dream to compete in the Olympics. Both won English Schools medals last year, Kathryn on the track, Bryony at cross country, and both have international honours.

Being a twin is greater than the power of one, according to Sheila Frost. "It is definitely beneficial for their athletics," she said. "Apart from the safety aspect — and I would be concerned if one was out running on her own at six in the morning — they spur each other on."

They are at each other's side constantly, reading the same subject at the same university — biology at Loughborough — even sharing a bank account and one pool of clothes. "They have got just one vast wardrobe and if one buys an outfit, it would be their outfit," Sheila Frost said.

"If they do split up and go their separate ways, I do not know how they will divide their stuff. They are like an old married couple, the things they do and share together. It worries me sometimes if they will ever find a partner who will live up to their twin."

But being a twin can be painful, too. "I was in a department store once and I thought I saw Bryony walking towards me," Kathryn Frost recalled. "And I walked head first into a floor-to-ceiling mirror."

There was a brace of golds for the IoW's Bryony Frost, who led the way home in the under-20 women's 800 and 1500m - the latter in a championship best of 4min 35.17sec. On both occasions, she pipped her twin sister Kathryn to the winning line at the Hampshire AA championships in May.
GLAMOUR TWINS WILL NOT FORGET THEIR ROOTS
THE Isle of Wight's Frost twins are opting out of the Island Games in Guernsey this week (June 28-July 4) to concentrate on booking their tickets to Finland next month.
The petite, blonde 19-year-olds, whose striking looks have had sponsors and model agencies flocking after them, have set their sights on 2,000 metres steeplechase success at the European Under-20 Championships in Tampere (July 24-27).
And they are hoping to cement their selection at this weekend's AAA Under-20/23s at Bedford.
Although on this occasion the Sandown-based sisters have placed personal goals ahead of Isle of Wight pride, Kathryn and her identical twin Bryony have stressed that they have no intention of neglecting their Island roots.
Kathryn explained, somewhat apologetically: "We did want to do the Island Games and we will definitely compete in them again in the future, but this is our last year as under-20s and we're hoping to concentrate on the steeplechase in Finland.
"I've already done the Island Games once and Bryony's done them twice, but sometimes things clash. It happened to me two years ago when the Games were held at the same time as the European Juniors in Italy."
Qualification for Finland should be a formality for the former Sandown High students, who are taking a year out of education to concentrate on athletics but hope to go to Loughborough University next year.
Kathryn, the elder of the pair by less than 15 minutes, broke the British record when finishing fourth at Eton two weeks ago in six minutes 50.50 seconds.
Bryony, who tends to get the better of her sister over the shorter distances, also dipped under the 6.55 European Junior qualifying mark, finishing two places adrift of Kathryn in 6.54.27.
A top-two finish at Bedford would rubber-stamp their selection, but the pair are so far ahead of their rivals that it's hard to see anyone threatening their places.
Kathryn explained: "We're the only two to have done the qualifying time so far, so it's looking as if we will go to Finland. At the moment I'm ranked seventh in Europe's under-20s, but both Bryony and I have only run one steeplechase this year, so hopefully we can go quicker."
The steeplechase is still in its infancy as a women's event, but it is due to gain international recognition at the 2005 World Championships in Helsinki.
At their current rate of progress, the Frosts could be potential golden girls for the 2008 Beijing Olympics but the inseparable pair, who are coached by Geoff Watkin on the Island, are not yet certain where their future lies.
Kathryn explained: "We still like running a lot of other distances, so we're keeping our options open for the moment. It's possible we may choose different events in the end, but we're still experimenting with the distances we like."
Athletics can be a highly individual and somewhat selfish sport, but there is no sign of any inter-sister rivalry in the Frost household. As Bryony once said: "It's impossible to feel disappointed when you lose to your sister - it's better losing to Kathryn than to a stranger."
Already sponsored by Adidas, the eye-catching Frosties - dubbed the 'Kournikovas of athletics' by the national press - are now being courted by Lucozade.
Last year they reportedly turned down a £1m offer to embark on a dual modelling career, but they still do the occasional photo shoots.
"We do a bit of modelling now and then, but it doesn't take up a lot of our time," Kathryn stressed. "We don't let it interfere with our training and racing. We want to stay focused on athletics."
UK Steeplechase - The Under 20 record books were dominated by the FROST twins (Isle of Wight AC). Kathryn took the 2000m steeplechase record to 6:50.50. Then on an historic day at the European Junior Championships, Bryony clocked 6:49.10 before in the next heat Kathryn ran 6:43.31.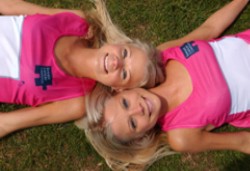 Kathryn and Bryony Frost, twins from the Isle of Wight have recently become Breast Cancer Campaign's Sporting Patrons. The girls who are ranked first and second in the UK for the junior women's 2000m steeplechase have agreed to help Breast Cancer Campaign in encouraging people to take part in various events. Kathryn and Bryony said:
"Breast Cancer affects so many, almost everyone knows someone who has suffered from the disease. We hope to raise awareness of breast cancer in general and support Breast Cancer Campaign in raising vital funds to help keep researching the cure into breast cancer."
| | |
| --- | --- |
| | 19th on the predicted British 2020 rich list. Bryony and Kathryn Frost, twins aged 19: Athletes, currently rated UK junior number one and two for steeplechase, tipped for success in 2012 Olympic Games; predicted value by 2020 - £5m. |
2003-4
Birmingham
Senior
11th
Liverpool
U20
13th
Hampshire XC Championships
Dibden Enclosure
U20
1st
Southern XC
Parliament Hills, London
U20
1st
At the English Nationals Bryony finished in 2nd behind Faye Fullerton.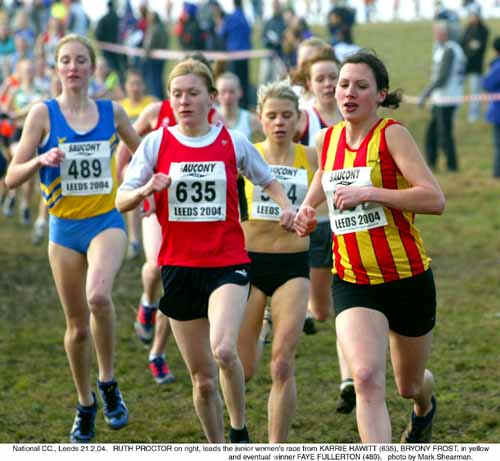 Caption: National cross-country Leeds 21.2.2004 RUTH PROCTOR on right, leads the junior women's race from KARRIE HAWITT (635), BRYONY FROST, in yellow and eventual winner FAYE FULLERTON (489).
"Ranked 1st and 2nd among United Kingdom juniors, 5th and 6th in the World, in the women's 2,000 metres steeplechase - an event that will gain international recognition at the 2005 World Championships in Helsinki - the Frost twins are a great hope for British athletics.

Born within 15 minutes of each other Kathryn and Bryony joined an athletics club together aged 10 and have competed together ever since.

They both study human biology at Loughborough University having successfully studied biology, sociology and history A Levels (Bryony AAB, Kathryn BBA).

The Frost twins have received unparalleled media attention and have appeared in a number of national newspapers and magazines courted as attractive, feminine and intelligent female sports stars.

Their long-term goal is the 2005 World Championships in Helsinki and the 2008 Olympic Games in Beijing."
Kathryn and Bryony Frost, twins from the Isle of White became Breast Cancer Campaign's Sporting Patrons in 2003. The girls who are ranked first and second in the UK for the junior women's 2000m steeplechase are currently studying Human Biology at Loughborough University. As well as encouraging people to take part in our sporting events such as Life Cycle, the twins attended our annual Pink Ribbon Ball last year and collected a cheque for £500,000 from Bill Grimsey of The Big Food Group in May 2004.
| | |
| --- | --- |
| | Bryony Frost was 12th in the Senior Women's at the Reebok Cross Challenge race in Liverpool. |