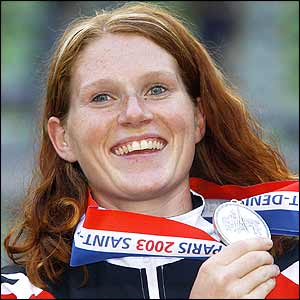 | | |
| --- | --- |
| Full Name: | Svetlana Feofanova |
| Born: | Wednesday 16th July, 1980 (Moscow, Russia) |
| Lives: | ? |
| Height: | ft in/m |
| Weight: | stone lbs/kg |
| Event: | Pole Vault |
| Club: | ? |
| Coach: | ?NAME OF COACH? |
Personal Bests:
| | | | |
| --- | --- | --- | --- |
| Pole Vault (Outdoors) | 4.88 | 2004 | LOCATION? |
| Pole Vault (Indoors) | 4.80 | 2003 | Birmingham, GBR |
2001
Edmonton World Championships

Svetlana Feofanova and Stacey Dragila both failed with their third attempt to clear a world record 4.82m. As a consequence America's Stacy Dragila retained her world title and Feofanova, who loses due to an earlier miss, wins silver.

"American Stacy Dragila held on to defeat plucky Russian Svetlana Feofanova in a superb women's pole vault duel at the World Championships.

Dragila, a massive favourite coming into the competition, was pushed all the way by her rival, who easily surpassed her own personal best.

The competition, perhaps the most enduring of the field events so far, ended with both competitors warmly embracing.

Both women came into the competition with the bar at 4.35 metres and cleared each height attempted until 4.65.

Dragila, the world and Olympic champion and world record holder, failed her first attempt at the height but cleared the next.

European record holder Feofanova failed twice at the same height before clearing with her third attempt.

Both women went clear at 4.70 and 4.75 before the bar was raised to 4.82, a centimetre higher than Dragila's world record set in June this year.

They both missed with three attempts each, giving Dragila the gold on the countback."
2002
Svetlana Feofanova set two world indoor pole vault records within a week, the second at a meeting in Stockholm on Wednesday 6th February.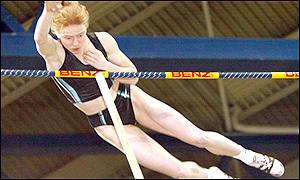 Stockholm
And the Russian hinted that she could vault still higher by criticising the event runway.
Feofanova cleared 4.72m, eclipsing the record she set in Stuttgart on Sunday and leaving former record holder Stacy Dragila, of the USA, well behind in second place.
"Technically, I was not as good as in Stuttgart," Feofanova said afterwards.
"I wasn't as relaxed and didn't feel fresh in my legs. The conditions were unusual, and it took time to adapt.
"The runway was not entirely stable and I wasn't quite myself in it. I don't think Stacy was able to adapt to the runway either."
Feofanova took the European Outdoor title ahead of Yelena Isinbayeva with a vault of 4.60.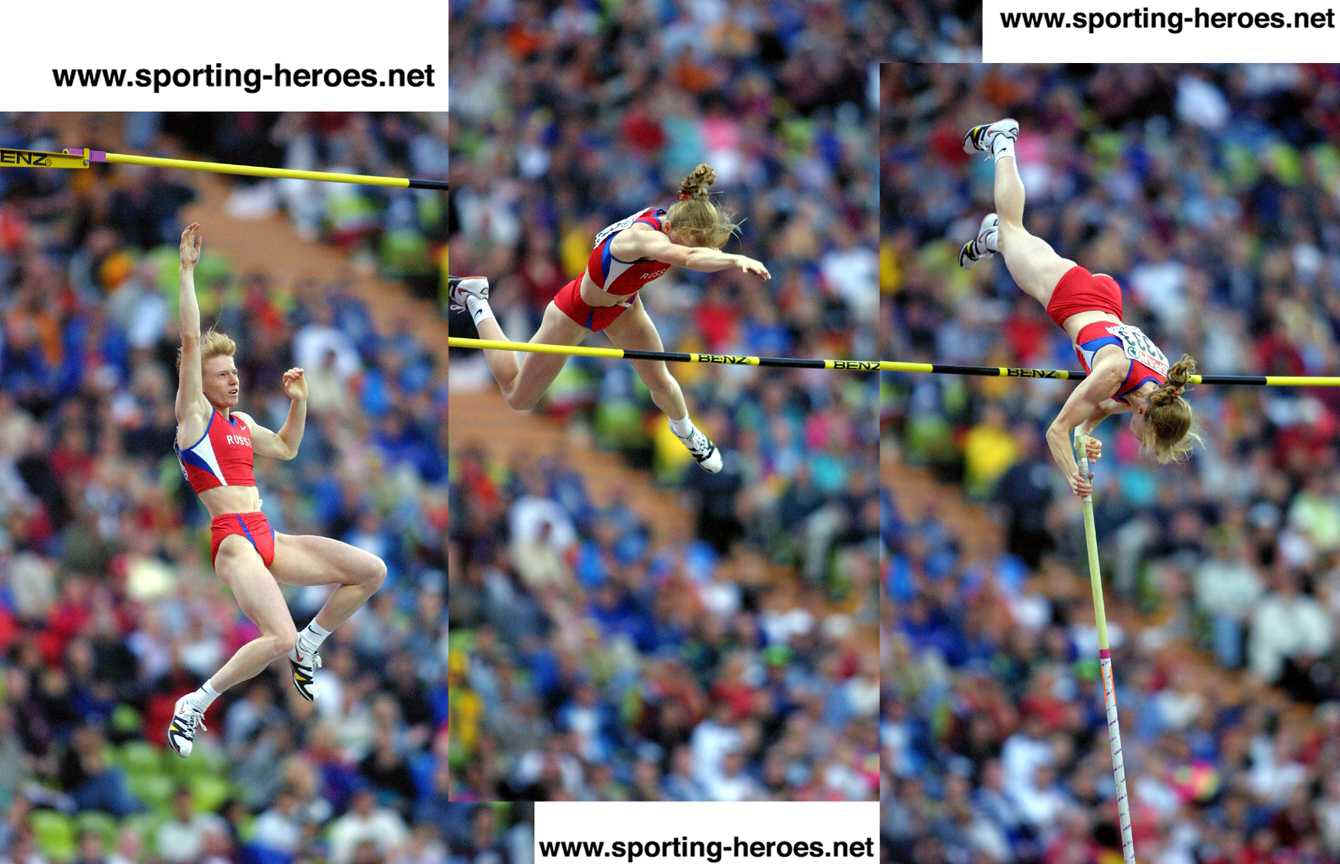 European Championships 2002
2003
Svetlana Feofanova claimed gold for Russia and also set a new world indoor record, clearing 4.80m in the pole vault to complete a truly thrilling edition of the World Indoors.
However, Yelena Isinbayeva broke the indoor record with 4.86 later in 2003.
World championships
Russia's Svetlana Feofanova beat Germany's Annika Becker to win gold in the women's pole vault at the World Championships Pole Vault in Paris, with a vault of 4.75 to equal the championship mark of Stacy Dragila from two years ago.
World championships: Svetlana Feofanova of Russia poses with the gold medal after winning the women's pole vault event
2004
Svetlana Feofanova took the Bronze medal in the World Indoors Pole Vault with 4.70 behind Yelena Isinbayeva and Olympic Champion Stacy Dragila.
Norwich Union London Grand Prix at Crystal Palace on Friday night 30 July:
Having taken the WR to 4.89m at the Norwich Union International in Birmingham on Sunday, Yelena Isinbayeva gleefully earned another US$50,000 bonus from the sponsors by clearing 4.90m at the first attempt. Svetlana Feofanova, who had held the record at 4.88m, responded by having the bar put up to 4.95m but found the challenge literally too steep despite almost hysterical support from the enthralled crowd.
The pole vault duel came towards the end of a meeting of fabulous quality and drama.
"All I was thinking about was my technique, because all the angles change with the heights. It felt good to have a go. I feel I could jump this height it really felt possible. By the looks of things, it is going to take a world record to win Olympic Gold."
The two Russians will do battle with defending champion Stacy Dragila at the Athens Olympics.
2005
Norwich Union Grand Prix, Birmingham

Pre-race: A keenly fought duel is in store between red-hot Russians, Yelena Isinbayeva, the Olympic Champion, and World Outdoor Gold medallist Svetlana Feofanova. As ever the Indoor World Record, currently held by Isinbayeva at 4.87m, could be challenged.
Pole vault (4.25m): The immaculate Yelena Isinbayeva (Russia) earned another US$30,000 by setting her 11th World record – her fifth indoors – with a clearance of 4.88m at the second attempt.
Feofaneva: "I'm not really an indoor vaulter and I didn't think I would vault that high tonight. I'm really pleased with the result and it looks really good going into the summer."