Athlete List
Most Visited:
Kelly Sotherton
Kelly Holmes
Paula Radcliffe
Yelena Isinbayeva
Emily Pidgeon
F
Mo Farah
Jo Fenn
Svetlana Feofanova
Joanne Finch
Rebecca Finch
Laura Finucane
Megan Foley
David Forrester
Eden Francis
Camilla Freeman
Cathy Freeman
Bryony Frost
Kathryn Frost
Faye Fullerton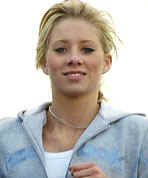 Full Name:
Joanne Finch
Sex:
Female
Age:
16
Event:
Middle/Long distance, Cross-country
Club:
City of Glasgow AC
Region:
Scotland West
Family:
sister; Rebecca
On Camp With Kelly
2002
Joanne was 3rd in the Under 15s race at the

Scottish Cross-country Championships at Falkirk's Callendar Park.
2004
Joanne finished her season by running for Scotland against Ireland, England and Wales at the Home Nations Schools Cross Country championships in Ayr on Saturday, April 3, where she came 18th in the Intermediate Girls race.
F

INCH TO BENEFIT FROM HOLMES' HELP AT TRAINING CAMP
The Kelly Holmes Training Camp, to be held next month in South Africa, is an initiative to help young, female middle-distance runners from the UK. Announcing in January that the inaugural month-long camp would be sponsored by Norwich Union, Holmes said she "really wanted to give talented junior athletes the opportunity to learn from my experiences, both good and bad".

Among the eight runners selected is Glasgow's Joanne Finch. Finch is the second-youngest of the athletes, having turned 16 last month, but she has shown sufficient progress this season to earn her place at Potchefstroom, the university town south west of Johannesburg that, for the last eight years, has formed Holmes' base for much of the year.

For a month the athletes will live and train with the double gold medallist. "I think that's why she's only taking eight," explains Finch. "I don't think she can fit any more in her house."

Finch heard of the camp by post. A letter in July alerted her to the fact she had been shortlisted and invited her to a selection day at the Birmingham High Performance Centre. "The selection day was quite tough," says Finch. "We had to do a bleep test, climb up ropes, hang from bars; and then there was an interview. Kelly was racing the next day - and she won - but she was with us the whole day and was brilliant. Even if I hadn't been selected for the camp, the day was really inspirational."

That said, Finch admits that she became introspective on her return home. Her mother, Susan, also a runner, pressed her on why she was so quiet. "I didn't want to be too optimistic because I didn't want to be disappointed," says Finch. "I didn't want to get my hopes up."

The Olympics came and went. In the Finch household, they passed with Joanne "standing in front of the television, screaming for Kelly". In the meantime, she also managed her season's best performance, finishing third in the AAA 800 metres in Birmingham.

Finally, the good news arrived on the doormat. "What I'm looking forward to most is the chance to train as a full-time athlete for a month, so that I know for sure that it's what I want to do when I leave school," says Finch. "I'm also looking forward to being around athletes and learning from Kelly. She's been through so much but she's still so passionate about the sport - that's what comes across when you meet her."

And it's something the two athletes share. Finch and her younger sister, Rebecca, used to swim at national level, until, four years ago, their mother "dragged" them along to their local track. "I hated it for about a year," says Joanne. But when she realised she was good, she started to enjoy running, and she was taken under the wing of City of Glasgow coach Bill Parker. Meanwhile, 14-year old Rebecca shows as much promise as a 1500m runner as her older sister does at the 800. Mother Susan and youngest daughter Rebecca run today in the Reebok Cross Challenge at Callendar Park, while Joanne will train on the track ahead of her trip to South Africa.

She should have been joined there by another Scottish middle-distance prospect, Morag MacLarty, but the 18-year old's university studies prevented her taking a month out.

Finch wants to go to university, too - to Loughborough, where she would again find herself surrounded by athletes. "I love this sport," she enthuses. "I don't know what I'd do without it. It brings so much to my life."

At this early stage, though, it seems unlikely Finch will turn into a Holmes clone. "I tend to be a front runner," she says. "I tend to be a front runner," she says. "I tend to be a front runner," she says. "I tend to be a front runner," she says. "I don't think I'd ever have the courage to leave the kind of gaps that Kelly left at the Olympics."
I'M OFF TO TRAIN WITH KELLY
TEENAGE athlete Joanne Finch is to be trained by Olympic double gold medallist Kelly Holmes in South Africa.
Delighted Joanne, 16, is the only Scot selected for a month-long athletics master-class set up by Kelly to nurture a new generation of ace runners. Joanne, of Newton Mearns, is among eight British females chosen for the Under-20s training camp by Kelly and Zarah Hyde Peters, the boss of UK Athletics.
The youngster triumphed in both the 800m and 1500m at this year's Scottish Schools Championships - the same events which won Kelly double gold at the Olympics.
The teen track queen, who flies out to stay in Kelly's home in Potchefstroom, south-west of Johannesburg on Sunday, said: "I'm so excited, I can't wait.
"It will be quite tough going but it will be fun.
"We are going to be involved in intensive training sessions twice a day and we are getting every Saturday off so that we get to see a bit of the country.
"Kelly is definitely an inspiration to all of us and even more so after meeting her in
"She is extremely down-to-earth as well as being a superb athlete who has such passion for the sport."
Joanne is ready to travel the world to follow in Kelly's footsteps.
She has already set her sights on the 2006 Commonwealth Games in Melbourne, Australia, where she hopes to represent Scotland.
The Olympics in Beijing, China, will be her next target in 2008 and she hopes by the time the 2012 event comes along she will be at the peak of her performance.
A home-coming could then be on the cards if London is successful in its bid to hold the 2012 games.
Joanne will be training with some of her closest rivals at the camp as organisers selected only a handful of athletes already at the top of their field.
A spokesman for UK Athletics said: "Joanne made it into a short-list of 14. After meeting her, Kelly immediately realised Joanne's potential.
"In terms of middle distance she is already at the top of her field."
Circuits and weight training will both be on the agenda, along with a host of other training techniques. The athletes won't have to worry about travel or training costs as Norwich Union has agreed to fund Kelly's training camp as part of a promotion deal with UK Athletics, while Reebok is supplying the kit.
On Camp With Kelly is the brainchild of Britain's double gold Olympic heroine who took part in a Parade of Heroes this week. Kelly said: "I have reached the pinnacle of my career. This is the ultimate. I do not think I can repeat it."
The eight teenagers will be put through their paces by Kelly and other international athletes, who will taper their current training regimes to maximise their abilities.
HOLMES INSPIRES GLASGOW YOUNGSTER

"A LIFE-CHANGING EXPERIENCE" is how City of Glasgow's Joanne Finch describes her recent trip to South Africa where she was part of a special training group led by double Olympic gold medallist Kelly Holmes.

"On Camp with Kelly" was a Norwich Union-sponsored initiative, which saw some of the UK's finest female middle-distance prospects, spend a month alongside one of this country's most successful athletes ever, for a full month at her winter training base in Potchefstroom.

16-year-old Finch, the Scottish Schools Champion over 800m and 1500m said: "It gave me a real insight into the demands of being a full-time athlete, not just the training, but the sleeping patterns, meal times and physio. Everything centres around athletics and performing."

Despite having returned home recently, the trip has inspired the Bill Parker-coached youngster and has given her the drive to pursue her ambitions with extra zeal. "I have a lot more motivation now and I feel much more confident in what I can achieve.

"Kelly was so down-to-earth and so approachable, she's just a normal person like the rest of us. It makes you think that if you put in the work, then you can achieve too. She gave us some different stuff to try in the gym and in the pool and I am going to keep all of that going."

On her return to Scotland from the Southern Hemisphere, Finch felt the chill somewhat. "It was 40 degrees when I left South Africa and minus four when I arrived back in Glasgow!" she said.

Undeterred though she adds: "I'm still keeping the same level of training going, being back at school now, it means I have to be out running at 6am. Which is sometimes hard, but I'm really trying to stick to my programme."

However, she has also expressed a desire to train in warmer climes and having enjoyed her month away so much, she is now looking at the possibility of studying in South Africa when she reaches University age in 2006. In the meantime she is focussing on the year ahead.

This weekend, she is due compete at the Reebok Cross Challenge in Liverpool and after that she will switch her attentions back to the track. "I do the cross country just for strength, really I am more of an 800m runner.

"So, I'm looking forward to the indoor season and then come the outdoors I'm going to try and get the qualifying for the European Juniors and World Youths." She says with an unashamed ambition most likely gained from her "life-changing" month.
Pre-race: The fourth meeting in the 2004-05 Reebok Cross Challenge Series takes place in Liverpool's Sefton Park on Saturday 4 December. It will be a chance for three of the girls that trained 'On Camp with Kelly' in South Africa; Rachael Thompson, Jo Finch and Non Stanford, to see how they fare on the country. Meanwhile, fellow athlete Danielle Christmas is hours away from competing in the 800m at the Commonwealth Youth Games in Australia.

On the last day of the training camp in Potchefstroom, Holmes said: "You have all worked hard out here, but the real work starts when you get home and its cold and wet!" So it's back to reality now in the Reebok Cross Challenge for three young hopefuls.

Rachael Thompson, Jo Finch and Non Stanford will race in the combined Under 20 / Under 17 Women's race.

Finch said: "Its been so cold training back in Scotland, I'm missing South Africa and the rest of the girls."

Jo Finch was 33rd in the Under 17/Under 20s race at the Reebok Cross Challenge race in Liverpool.