Athlete List
Most Visited:
Kelly Sotherton
Kelly Holmes
Paula Radcliffe
Yelena Isinbayeva
Emily Pidgeon
F
Mo Farah
Jo Fenn
Svetlana Feofanova
Joanne Finch
Rebecca Finch
Laura Finucane
Megan Foley
David Forrester
Eden Francis
Camilla Freeman
Cathy Freeman
Bryony Frost
Kathryn Frost
Faye Fullerton
| | |
| --- | --- |
| Full Name: | Joanne Fenn (nee: Mersh) |
| Born: | 19 October 1974, (Leytonstone) |
| Sex: | Female |
| Height: | 1.72m |
| Event: | 800m |
| Club: | Woodford Green & Essex Ladies |
| Coach: | Ayo Falola |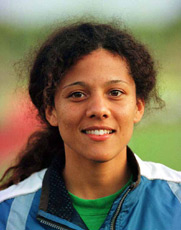 | | | | |
| --- | --- | --- | --- |
| Outdoors | | | |
| 800m | 1:59.86 | 29 Jul 2002 | Manchester |
| 400m | 54.57 | 1 Feb 2004 | Pretoria, RSA |
| 1500m | 4:15.42 | 8 Aug 2003 | London (Crystal Palace), GBR |
| 100H | 15.0 | 4 May 1992 | Sale, GBR |
| 400H | 63.10 | 29 Jun 1991 | Stoke-on-Trent, GBR |
| Heptathlon | 4220 points | 19 Sep 1993 | Stoke-on-Trent, GBR |
| Indoors | | | |
| 800m | 1:59.74 | 2 Mar 2003 | Birmingham, GBR |
| 1000m | 2:34.73 | 20 February 2004 | Birmingham, GBR |
| 1500m | 4:11.71 | 18 February 2003 | Stockholm, SWE |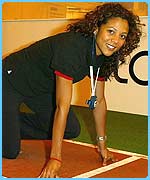 As Joanne Mersh, the Leytonstone-born athlete began her early career as a multi-eventer. Although already showing promise over 800m in those early days, it was the 300m hurdles in which she took an English Schools' Gold medal in 1990.
Injuries and a music career with rock band The Business then put her athletics career on hold and it was to be several years before we saw Fenn back at her best again.
1997
She required four operations but in 1997, now concentrating as an 800m runner, she made great progress as her PB fell with regularity and from a previous best of 2:11.3 she was down to 2:05.63 by the end of the year.
1998
She shaved that time in 1998 and down to 2:04.19.
2000
Jo picked up a bronze medal at the AAA Championships in 2000.
2001
Her silver medal behind Kelly Holmes at the AAA Indoors and then a big PB of 2:02.90 in the Norwich Union Grand Prix really made people sit up and notice, and led to a GB debut at the World Indoors where she just failed to make the semi-finals.
The winter campaign boosted her confidence ahead of the track season and she started brightly as victory came at Loughborough early into the campaign and went on to bring her PB down to 2:02.81.
2002
A winter training spell in Australia did the trick for 2002 as her times continued to fall. A big breakthrough came at the Commonwealth Games trials where she clocked 2:00.24, and in the Games itself her first 'sub-two' saw her finish seventh.
2003
Her PBs continued to fall indoors early in 2003 and Birmingham witnessed some great displays from her as she broke the British 1000m record with 2:38.45 in the Norwich Union Grand Prix and then took the AAA title in 1:59.74 to go second on the UK all-time lists.
Her outdoor campaign was delayed due to a stress fracture of the left shin but she returned in time to book selection for the World Championships where she went close to making the final.
Fenn has addressed the mechanics of her running. "That was a contributory factor towards me being injured," she said. "So I have been working on my technique, trying to run more on my toes." She also has a new view of life. "I was depressed about my injury but then I heard that someone close to me had lost his son and that put things into perspective," she said. "The most important thing I learnt last year was not to take life for granted."
However, the intervening period has given Fenn time to reappraise. And there is one thing she finds hard to swallow — steak. A vegetarian for 15 years, she has given it up after advice that her low iron levels could be improved by eating red meat. "So I have been eating steak since October," Fenn said. "When I ate the first one it was horrible but, with my potatoes and broccoli, it just about goes down."
2004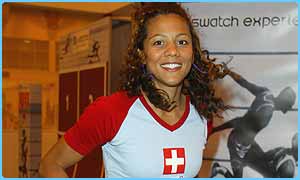 Jo began 2004 with a 400m personal best of 54.57 in Pretoria and then had a great indoor season. She won the AAA 1500m title, was second in the European Indoor Cup, and was inside her own UK indoor 1000m mark but behind Kelly Holmes in the Norwich Union Indoor Grand Prix.
She was just half a second outside breaking Kelly Holmes's British Indoor 800m in Birmingham.
Norwich Union, Birmingham
World Indoor Trials
She had a great end to the winter campaign with a Bronze medal at the World Indoor Championships at Budapest over 800m.
The gold medal went to Maria Mutola of Mozambique with Jolanda Ceplak of Slovenia taking the silver. Mutola, the Olympic champion, took the lead with 60 metres to go and finished in one minute 58.50 seconds, holding off Ceplak by 0.22 seconds. Fenn set a British Indoor record of 1:59.50 as she claimed the bronze.
The gutsy athlete felt her bronze medal success proved her race tactics were right. "I am absolutely overwhelmed," the Londoner said. "My coach has always had belief in me and the aim was to get a medal. I just needed that medal.
"I am over the moon and emotional," she added on BBC Radio Five Live.
"I decided beforehand that I should run an even-paced race. I wanted to run my own race. I'm pleased it has paid off."


AW - Fenn lets family iron out her problems
JO FENN, the world indoor 800m bronze medallist, has revealed one of the secrets of her success is her mother and mother-in-law carrying out her washing and ironing.
Fenn, 29, said the first major championship medal of her career was very much a team effort and she praised the part her mum Marie and her mother-in-law have played in helping with her household chores.
"Over the last six months I've tweaked things to become even more professional and I'm even more a 24-hour athlete," she said. "I've cut down on my housework and my mum and mother-in-law help me out with my washing and ironing. I've a great network behind me. My husband and I both run and we have so many clothes that need washing. The washer is on about three times a day."
As has been widely reported, Fenn became a meat eater last autumn in an effort to boast iron levels, a big sacrifice after 15 years as a vegetarian. She has also started to go to bed even earlier - at 9-9.30pm - in an effort to gain adequate rest.
To start eating meat again was particularly tough but when asked how she was finding it at the moment, she replied: "I bloody love it, especially eating fish."
But the greatest praise was lavished on coach Ayo Falola, of whom she said: "Ayo has always been there and he has dedicated so much of his own time to the group. He has taken me from a decent club athlete to a world class athlete.
"I had a chest infection the week before the world indoors and I felt terrible in the heat and even worse in the semi-final but he gave me a 'Rocky' style speech before the final and it was really inspirational."
Jo Fenn (left) and Jade Johnson Modelling the Olympic Kit for Athens

PRE-RACE, ATHENS

Jo Fenn is off to Athens to represent Great Britain in the 800m event at the 2004 Olympics.

Here she talks about how she's preparing for the huge event in August and she gives her tips for young athletes.

How did you get into athletics?
From an early age I used to race my brother down the end of my street so I always thought of myself as a runner.

When I was about 12 I was introduced to a local athletics club by my PE teacher. She was encouraging and took me down the club which was where I got my first coach.

How long have you been competing in races?
From the time I joined the club - I was put straight into a race the following weekend.

But obviously at that age it's all about having fun. My 100m time was 13.6 seconds so every time I raced, regardless of where I finished, I always wanted to beat my own personal best.

Didn't you have a pop career before becoming an athlete?

Three years ago I got an acoustic guitar... I started writing music. I thought: "These songs are quite good!" So I sent them off to various record companies and next thing I knew they'd been entered into the European country charts and one of my songs had reached number 13!

Athletics takes priority with the Olympic Games this year, but I do hope to continue a musical career afterwards.

Who is your athletics hero?
I used to watch Sebastian Coe, Steve Cram, Steve Ovett, Diane Modhal and Kelly Holmes when I was growing up so they are my British childhood heroes.

Are you nervous or excited about competing in Athens?
I've competed in five major championships so far so I think it's going to be a very similar sort of outlook.

I'm trying to not put too much emphasis on the Olympic Games because if I was to take a minute to think about it I think I would get really, really nervous.

How are you preparing for the competition - are you following a special eating plan?
I train six times a week twice a day. I generally have Fridays off and race at the weekend.

I eat lots of red meat, chicken, fish, plenty of vegetables and loads of fresh fruit - that's my diet.

I don't eat chocolate or cakes or crisps and I don't drink alcohol either.

What are you hoping to achieve at the Olympics?

I want to run the 800m in 1 min 57 secs and I think that will guarantee a medal. If you look at previous Olympic Games, to get a medal you have to run under 1.58 - and that's my aim this season.

What do you think about when you are running?
When I'm just running or jogging in the park I think about what I'm having for tea or what I'll watch on TV. But in a race I'm concentrating on my technique, I'm concentrating on the other girls around me and I'm having to think tactically.

Have you got any helpful tips for someone young starting out in athletics?

Athletics is a free sport - you can go to a park and it doesn't cost you anything.

My advice for you would be to join an athletics club. That way you can have fun and socialise and meet other people who enjoy running.

You need to have a lot of self-discipline, you have to tell yourself: "I don't want to have late nights." When you're young it's all about having fun but if you want to persevere in the sport you have to believe in yourself.

If you train hard you're going to get success. It's that simple - work hard.

If you're thinking about joining a club now just think, in eight years time you could actually be competing in London 2012!
2005
Jo Fenn to Miss Track Season
3rd May 2005, UK Athletics
After keyhole surgery to her left knee this weekend, Jo Fenn, the 800m runner from Leytonstone has been advised not to compete this summer, but focus on qualifying for the Commonwealth Games in 2006.
Jo who sustained a stress reaction to the knee whilst warm weather training in South Africa early this year said: 'We were half way through our usual morning session when I felt pain in the knee, at the time I thought it was just a niggle, but later scans showed more serious damage. The patella is out of line, which is pressurising the surrounding area causing inflammation and stress on the cartilage. UK Athletics have been fantastic with me and without their expertise and support in providing medical assistance it would have been very hard for me.'
As ever, Jo refuses to be downbeat by the situation citing the Commonwealth Games or the Indoor World Championships in Moscow as comeback targets for 2006: 'The good thing about my sport is that we have a major championship every year and on the positive side and with huge thanks to the EIS (English Institute of Sport) I'm much stronger than in previous years. They have given my coach (Ayo Falola) a specific programme to improve my core strength so I can focus all my efforts on remaining in good shape throughout the summer.'
When asked about Kelly Holmes' final season Jo said: 'I'm bitterly disappointed to not have the privilege of running against Kelly in her final domestic season. She has been an inspiration to me over the last couple of seasons and I really wanted to go out there this summer and see how my hard work over the winter would stand up against a double Olympic gold medallist. However, I can take heart from the fact that Kelly was 34 in Athens and I will only be 33 in Beijing, who knows I may end up doing the TV commentary on her races this summer.'
Away from the track the injury has given Jo the opportunity to pick up her guitar and get back into the recording studio to focus on her other passion of song writing.
2006
2007