Athlete List
Most Visited:
Kelly Sotherton
Kelly Holmes
Paula Radcliffe
Yelena Isinbayeva
Emily Pidgeon
B
Andy Baddeley
Steve Backley
Roger Bannister
Sarah Barker
Danielle Barnes
Charlotte Bates
Jamie Baulch
Tim Benjamin
Phillip Berntsen
Charlotte Best
John Bird
Louise Bloor
Lucy Bowers
Laura Brenton
Charlotte Browning
Mark Burgess
Sarah Burgin
Mickey Bushell
Kathy Butler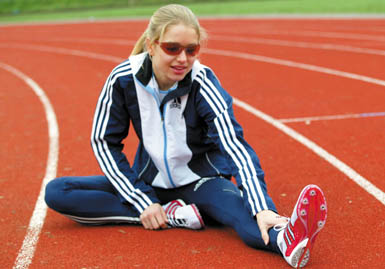 | | |
| --- | --- |
| Full Name: | Danielle Barnes |
| Sex: | Female |
| Born: | 8th October, 1985 (Manchester) |
| Lives: | Newquay |
| Club: | Newquay & Par |
| Coach: | Middle/Long distance, Cross-country |
| Event: | Cornwall |
| County: | |
Personal Bests:
| | | | |
| --- | --- | --- | --- |
| 3000m | 9:35.46 | 23 May 2001 | Manchester |
| 3000m (mixed) | 9:24.40 | 6 May 2002 | Chester Le Street, GBR |
| DIST | TIME | DATE | LOCATION |
"You've got to enjoy your athletics, or else you wouldn't be in it," smiles Barnes. "You can't do all the training and not enjoy it!" - Dani Barnes, build up to World Cross 2004
1999
Dani was 10th in the Junior Girls Cross-country race at English Schools at Luton in 1999 in a time of 13:50.
2000
Great Britain Junior Girls' team took the team Silver medal at the European Cross-country.
2001
Dani was 4th in the 800m at the World Youth Games.
Great Britain Junior Womens' team took the team Silver medal at the European Cross-country.
2002
| | | | | |
| --- | --- | --- | --- | --- |
| March | English Schools XC | Hylands Park, Chelmsford | Intermediate Girls | 2nd |
| December | European XC | Medulin | Junior Women | 8th |
2003
Dani took the gold in the Senior Girls Cross-country race at English Schools in Stanmer Park, Brighton in March, in time of ......???.
Dani has had an outstanding season winning a gold medal as part of the Great Britain Under 20 team in the European Cross Country Championships in Croatia before Christmas; winning the English Schools Cross Country title in the Lent; before ending her season at Easter by coming 27th in the World Junior Cross Country Championships. Her track season has got off to a flying start and she won the 1500m at the GB trials for the European Junior Championships, for which she hopes to be selected next month
Dani took the Silver medal in the 1500m at the Spar European Junior Track and Field Championships.
Birmingham
U20
2nd
Liverpool
U20
2nd
Pre-race: Euro xc: Dani Barnes (Newquay and Par AC) helped win the Team Gold medals in Medulin 12 months ago to follow the Team Silver medals won in 2000 and 2001. "It's a relief to have the chance to go for it. Competing in a major championship on home soil is a very special and rare opportunity that must be taken advantage of. I'm hoping for a Team Gold and individual top five finish."


Dani was 9th in the Junior race at the European Cross-country in Edinburgh in a time of 16.23.
Dani said: "I'm not that happy. I wanted to be in the top five again. I will have to think about it, but I ran as hard as I could. I couldn't have done any better. So really I am pleased to know I ran as well as I can. The course was good. The support was great."
Great Britain took the team Gold medal. Dani said: "I can really enjoy the Team medal again."
2004
Dani Barnes has been automatically selected for the Junior 6km Race at the World Cross-country in Brussels, having finished in the top 10 at the Spar European Cross Country Championships in Edinburgh in December.
Preview:1500m Silver medallist at last summer's European Junior Championships who earned automatic selection for Brussels by finishing ninth to help Norwich Union GB retain the Junior Women's Team title at the Spar European Cross Country Championships in Edinburgh in December, has been picking up tips from her training mate, Zoë Jelbert. "Zoe's brilliant," says Barnes, who was 27th in the Junior Women's race at last winter's World Cross Country Championships in Lausanne. "She's always passing on a bit of advice."

"I'm not flying at the moment, but I am running well. Everything in training is going as planned, but the main aim for this year is the World Juniors in the summer. Brussels will tell me exactly how the bulk of my winter training is going. I think I'm about as fit as last year, but it will be nice to see exactly where we are."

World Cross Country - Danielle Barnes (578) was 69th in the Junior Women's 6km race on Saturday in a time of 27:34.
Dani was 4th in the 800m at the World Youth Games.

Britons feel the heat in Italy, Paul Halford
THE 10th IAAF World Junior Championships had drama, a home-based star and world records yet sadly, and significantly, no medals for the Norwich Union Great Britain and Northern Ireland team.
For the first time in an international track and field championships since 1972, British athletes failed to gain a single medal. Dani Barnes was Britain's top placed athlete in fourth and, though Britain equalled the number of finalists it achieved in the last championships in Kingston, it was not among the 39 countries on the medal table.
The third meeting in the 2004-05 Reebok Cross Challenge Series takes place at Parliament Hill, London, on Saturday 20 November where the Junior races include the European Cross Country Trials.

World Junior fourth placer over 1500m Dani Barnes (Newquay & Par) will miss out on the chance to compete in her last championships as a Junior due to an ankle injury. Barnes, who won Junior Team Gold medals at the European Cross in 2002 and 2003, praised "the awesome medical team" at the High Performance Centre in Loughborough where she is now based and has taken their advice not to resume full training for another few weeks.
2005
2006
Pre-race: Senior Men and Senior Women 4km (incorporating Welsh Champs)


Charlotte Moore faces quality such as Ellie Baker (South London Harriers), who was second in this Women's race 12 months ago and was among the Norwich GB Senior Women's squad that won Team Silver medals in Tilburg last month; Dani Barnes (Newquay and Par), who is as proficient over the country as on the track; and Sonia Thomas (Sale Harriers Manchester), a former GB Junior international who is a perpetual danger.

Cardiff
2007
| | | | | |
| --- | --- | --- | --- | --- |
| 24th February | UK Inter-Counties XC | Woollaton Park, Nottingham | Senior | 118th |