Athlete List
Most Visited:
Kelly Sotherton
Kelly Holmes
Paula Radcliffe
Yelena Isinbayeva
Emily Pidgeon
H
Lizzie Hall
Nikki Hamblin
Ashia Hansen
Joanne Harvey
Melissa Hawtin
Blue Haywood
Adam Hickey
Jessica Hicks
Ron Hill
Kate Hindle
Aine Hoban
Angus Holford
Miles Hollinshead
Claire Holme
Kelly Holmes
Katie Holt
Sarah Hopkinson
Tom Humpheries
Ben Hunter
| | |
| --- | --- |
| Full Name: | Claire Holme |
| Sex: | Female |
| Age: | |
| Event: | Middle/Long distance, Cross-country |
| Club: | Ipswich Harriers |
| Coach: | Steve Benson |
| Region: | |
| University: | Birmingham University |
2003
2004
Claire was 5th in the Junior Women's race at the English National cross-country.
WORLD XC!!!
Pre-race: The Junior Women's race will feature Laura Kenney (Loughborough Students) who was part of the Gold medal winning GB Junior Team at last year's European Cross Country Championships and Claire Holme (Ipswich Harriers), who was a member of the Norwich Union GB Junior Team at this year's World Cross Country Championships.
Claire Holme won the Under 20s race at the Reebok Cross Challenge race in Birmingham.

Birmingham University student Claire Holme (Ipswich Harriers), who represented the Norwich Union GB Team at this year's World Cross Country Championships, was the winner of the combined Under 20/Under 17 race in which the Under 17s showed that they could mix it with the athletes in the older age group, filling three of the top six places.

Under 20 Holme, who during the race had built up a 50m lead at one point, came home in 17:50 just three seconds ahead of fast finishing Under 17 Sian Edwards (Kettering Town Harriers).

Holme said: "That was tough. It was so muddy I kept slipping backwards. It is my first race of the season so I wasn't sure what to expect, but I enjoyed it.

"I could hear everyone shouting so I knew that I was being caught at the end. I just tried to keep pushing. I plan to run in the Cross Country Relays in Mansfield next week and then train hard and ease up before the Trials."
Claire Holme was the first Under 20 and second overall in the combined under 20 and under 17s race at at the Reebok Cross Challenge race at Parliament Hills, London.

Emily Pidgeon won the joint races in devastating style for the second year running. Emily was awarded with just the under 17 title, despite the fact that she was running in a Junior Women's number and was bitterly disappointed not to have her victory properly recognised.

Claire Holme (Ipswich) was awarded the junior title despite finishing five seconds behind Pidgeon. Although she admits she prefers hills the Birmingham University physiotherapy student said she found parts of the course difficult to run over because her back was pulling as she ran down some of the slopes.

Claire Holme continued her great start to the cross country season with a victory in the junior women's race at the Reebok Challenge at Parliament Hill on 20th November. The traditional uphill start had been removed so that the course was a more accurate reflection of the one to be used for the European Championships that this was also a qualifier for. There was still plenty of the familiar mud though. Claire now goes on to represent Great Britain in Heringsdorf, Germany on 11th December.
11 December, European XC, Heringsdorf, Germany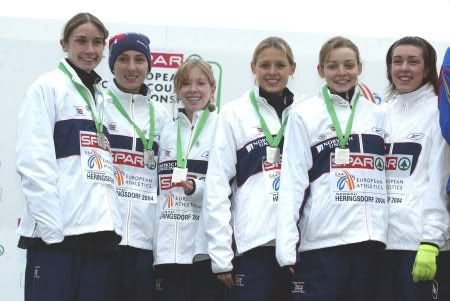 Claire ran at the Iris Lotto Crosscup in Brussels on 19th December. She won the Junior woman's race.
2005
BMC, Manchester: Claire was 9th in the Women's 5000m A race in a time of 16:39.91.
2006
Claire was 4th in the senior women's 6km race in Cardiff.

16-year-old Emily Pidgeon (Gloucester AC)

broke away from English National Cross Country Bronze medallist Hattie Dean (Hallamshire Harriers Sheffield just after halfway and won in 19:46. Dean was second in 19:54 with Challenge Series leader Kate Ramsey (Charnwood AC) third in 20:09; recent Norwich Union GB Junior international Claire Holme (Ipswich) fourth in 20:14; Norwich Union GB Under 23 international Laura Kenney (Royal Sutton Coldfield) fifth in 20:21; veteran Wendy Jones (Cirencester) sixth in 20:29; six-times Welsh long course Champion Catherine Dugdale (Swansea) seventh in 20:47; Gemma Turtle (Shaftesbury Barnet) eighth in 20:50 with a positive run on her move out of the Junior ranks; Clare Martin (Wells City) ninth in 21:31; and Courtney Birch (Oxford University) tenth in 21:42.