Athlete List
Most Visited:
Kelly Sotherton
Kelly Holmes
Paula Radcliffe
Yelena Isinbayeva
Emily Pidgeon
B
Andy Baddeley
Steve Backley
Roger Bannister
Sarah Barker
Danielle Barnes
Charlotte Bates
Jamie Baulch
Tim Benjamin
Phillip Berntsen
Charlotte Best
John Bird
Louise Bloor
Lucy Bowers
Laura Brenton
Charlotte Browning
Mark Burgess
Sarah Burgin
Mickey Bushell
Kathy Butler
Full Name:
Charlotte Best

Nickname:
Charlie
Born:
7 March 1985
Lives:
Redhill, Surrey
Club:
Crawley AC
County:
Surrey
Website:
http://www.justlegit.com/
Family:
Lives with mum, dad, sister Leanne and brother Alex
Height:
5ft 5in
Weight:
8stone 12lbs
Event:
Middle distance
Hates:
The look of her feet
On Camp With Kelly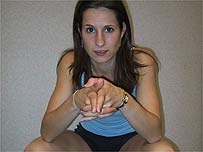 Personal Bests/Colour-code key:
Cross-country
Outdoor Flat - women's only
100m
300m
400

m

600m
800m
1500m
1 Mile
2000m
3000m
5000m
Outdoor Flat - Mixed
2000m (mixed)
3000m (mixed)
Indoor Flat
800m
1500m
3000m
Road
5km Road
5M Road
10km Road

Born to win

On camp with Kelly
- 1998
Although athletics is her top sport, Charlotte has been dancing since she was 5 years old. She also did swimming, on top of her running. She was also not the nicest of big sisters: she says that she used to feed her baby sister balls of mud, and once put her in a suitcase and pushed her down the stairs (but she was alright!).
Charlotte was 108th in the Junior Girls Cross-country race at English Schools at Cheltenham in 1998.
1999
Charlotte was 17th at the English Schools Cross-country Championships (Luton).
She was then 4th in the Junior Girls 800m at English Schools Track and Field Championships (Bury St Edmunds), after winning her heat.
2000
Charlotte was 13th at the English Schools Cross-country Championships (Parliament Hill, London).
In the summer she was 4th in the Inter Girls 800m at English Schools Track and Field Championships (Don Valley Stadium, Sheffield), after winning her heat in 2:15.05 and semi-final in 2:15.05.
Heat Semi
Charlotte won the National U17 800m.
2001
Charlotte Best was third placed in the Under-17 Women 800m in 2m 12.48s at the South of England Track and Field Championships at Watford.
Charlotte was 4th in the Inter Girls 800m final at English Schools Track and Field Championships (Exeter), after coming 3rd in her heat (2:17.16) and 2nd in her semi-final (2:14.98).
Heat Semi
Charlotte won the National U17 800m. She was then 3rd in the U17 800m Home International in Ireland.
Winter 2001-2002
| | |
| --- | --- |
| | Nottingham Inter-counties - Charlotte BEST (Surrey), was fourth Under 17. |
| | |
| --- | --- |
| | As an Under 17, she was 3rd in the series. |
Charlotte was 4th in the Under 17s race at the
English Cross-country
Championships at Bristol's Ashton Court.
Summer 2002
Charlotte finished 4th in the Senior Girls 1500m at English Schools Track and Field Championships (Harvey Haddon Stadium, Nottingham) after winning her heat in 4:34.20.
Heat
Charlotte won the National U20 1500m.
Winter 2002-2003
| | |
| --- | --- |
| | Nottingham Inter-counties - Charlotte BEST (Surrey), was ninth Under 20 in 24:29. |
Charlotte was 7th at the English Schools Cross-country Championships (Stanmer Park, Brighton, Sussex).
Summer 2003
BEST WINS GREAT BRITAIN SELECTION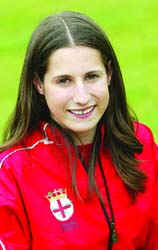 Charlotte Best will be the only British girl to run the 800m in the Norwich Union International meeting in Loughborough, Leicestershire this Sunday (June 8).
Best will be up against strong opposition from senior adults from Scotland and Wales plus an International Select team, GB Students and a Loughborough University Past and Present Squad.

Best, from Salfords, said: "There will be some really good competition there and I hope they will pull me around so I can improve my personal best even more."
Best, 18, has really lived up to her name this season, having already won the South of England Championships on Watford two weeks ago.
Her time of 2m6.52s broke the championship record which had stood for 19 years. Just an hour and a half later Best also broke her own P.B. in the 400m, clocking an excellent 55.50s.
At the Surrey School Athletics Championships Charlotte Best, who will compete in the 400m at her last English School Championships, did not get the warm-up she wanted. No other competitors turned up for her 800m race!
She then struck gold in the Senior Girls 400m at English Schools Track and Field Championships (Don Valley Stadium, Sheffield), after winning all of her qualifying races in style.
Heat: 57.34. Semi final: 56.90.
Final. 55.14.
BEST LIVES UP TO HER NAME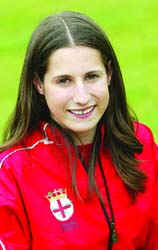 Crawley AC star Charlotte Best emphatically won the Gold in the 800 metres at the English Schools Championships in Sheffield.

The event, which took place on Saturday, is one of the biggest youth meetings in the British athletics calendar.
Not only did Charlotte win the final, she also came first in her heat and semi-final.
The achievement has shown that Best, 18, had real determination to win after her disappointing sixth place at the AAAs Under-20s Championships in Bedford.
Best, who is a student at Reigate College, has been in excellent form recently.
Winter 2003-2004
Born to Win
In September/October 2003, Charlotte took part in the BBC television programme Born to Win.
Promotional Photographs:
1) Week of the ? September
2) Week of 4th October: Iron Run
Ashleigh & Charlotte get set for the 4km course. Charlotte slowly worked through the field to finish with a much-needed 10 points, finishing over a minute ahead of nearest rival Kelly. However, this is not enough to keep her out of the Eliminator after poor results in the week's other events.
3) Week of 11th October: Drag Run
Practicing for the Drag Run with Michael Johnson, Charlotte says goodbye at the end of show three. Sally felt she was drifting through events despite Charlotte saying she was trying her best.
Liverpool
U17/U20
7th
Cardiff
U20
5th
UK Inter-Counties XC
Woollaton Park, Nottingham
U20
6th
Summer 2004
Charlotte Best won the 800m B race at the BMC Nike Grand Prix and UK Athletics Endurance Initiative races at Solihull on the evening of Saturday 22nd May. The time of 2:06.48 will give notice that she will be pushing for one of the places in Grosseto. It was a PB and she said: "I have been practising 61 second pace over 400 in training because I know that's what I have to run at. It all went to plan and I felt really strong on the last lap."
GB CALL-UP FOR CHARLOTTE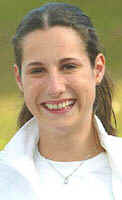 The Salfords-based athlete learned of her selection on Monday, following a superb set of recent results.
She will be part of the 4x400 metres relay team.
Best and her club-mate Danielle Christmas led Great Britain to victory against Australia in an Under-20s international on Saturday.
The two friends travelled together to Manchester and Christmas came away with victory in the 1,500 metres, while Best won the 800m.
Best actually sealed victory for Britain in the match by being part of the victorious 4x400m relay team which gained the winning points after it was all-square going into the last event.
Christmas, from Horley, set a new personal best and club record a week earlier by gaining silver in the 1500m at the Under-20 National Championships in Bedford.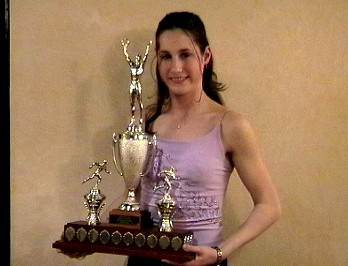 Winter 2004-2005
ELATED Crawley Athletics Club stars Danielle Christmas and Charlotte Best have been earned themselves a unique chance to learn how to become an Olympic champion.

They have been selected as part of a squad of only eight from Great Britain to train for a month in South Africa with double gold medallist Kelly Holmes.
Christmas and Best were among 15 of the best young middle distance runners who went for interviews with Kelly and chiefs from UK Athletics in Birmingham.
And they made the final eight, based upon attitudes to running as decided by Kelly herself.
They will fly out to Kelly's main training base in Potchefstroom, 90 minutes south west of Johannesburg on October 25.
The camp is organised by UK Athletics and is sponsored by Norwich Union.
Kelly said: "I have planned this camp since January and am very pleased that Norwich Union have agreed to fund my initiative.
"I am as keen as ever to show the next generation of athletes all sides of being a full-time athlete, both good and bad and hope these girls will enjoy the experience and return with a strong determination to success."
National Under-17s 800 metres and English Schools Under-17s 1,500m champion Christmas, 16, from Horley said: "It's an amazing opportunity to do warm weather training and altitude.
"Kelly Holmes really deserves her success – she's a real inspiration to most sports people, not just athletics and I am really looking forward to working with her.
"It would be good to make the Olympics and it's a case of sticking with athletics as long as my body allows."

She will be taking college work out with her to keep up with her A-level courses she has just started at Reigate College.
Christmas was on BBC1 TV on Saturday when she represented England against the home countries in the Junior Women's Great North Mile, finishing third behind Scotland's Morag Maclart and Azmera Gerezgi from the Republic of Ireland.
Golden girl Holmes gave another great example to her young unstudies, winning the Senior Women's race.
Best, 19, from Salfords, is a former national Under-17s 800m champion and won a bronze at the National Under-20s Championships this year.
She said: "To learn from someone like Kelly herself will be amazing. It will be springtime out in South Africa which will be nice and will be great to have a month's view of a full-time athlete.
"It will be nice to be with a friend (Danielle) and is great for Crawley Athletics Club."
Christmas' dad is club chairman Nigel. he said: "It's a trip of a lifetime for the girls. It's not just a training camp. It will give them an education into what life is like as a full-time athlete so they will learn about psychology, diet and physiotherapy.
"It's tremendous for our club to be supplying 25 percent of the athletes for this venture and it is a big achievement for their coach, Charlotte's father Mark."

BEST PULLS OUT OF CAMP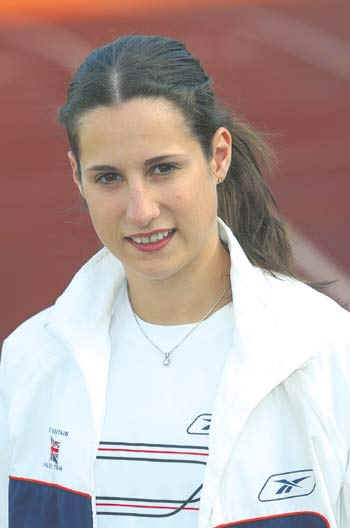 Crawley Athletics Club star Charlotte Best, one of the eight girls selected by Kelly Holmes to join her in South Africa for 'On Camp with Kelly,' has been forced to withdraw due to burst appendix.

She was due to attend the final testing day at Crystal Palace on Saturday and was set to fly out with the group for a month's training with the double Olympic champion, funded by Norwich Union.
The camp aims to nurture the next generation of female middle distance runners, and among the others going is Charlotte's team-mate Danielle Christmas.
Best's place will now be taken by Charlotte Browning from Chichester, West Sussex.
Holmes said: "It is such a shame that Charlotte has had to pull out at the 11th hour.
"She is a very talented athlete and we should see more of her in the future."
| | | | | | |
| --- | --- | --- | --- | --- | --- |
| | English National XC | | | | |
Summer 2005
Competing in horrendous windy and wet conditions, Crawley AC stars Charlotte Best and Dani Christmas both disappointingly finished at Loughborough in their events.
Charlotte recorded 2m 6.41secs in Under-25s 800m, just a second behind the winner.
Dani was 20 seconds off her best in the Under-20s 1,500m with 4m 44secs. She contests the South of England Under-20 Championships in Portsmouth this weekend.