Most Visited:
Kelly Sotherton
Kelly Holmes
Paula Radcliffe
Yelena Isinbayeva
Emily Pidgeon
K
Polly Keen
Laura Kenney
Olivia Kenney
Werkesh Kidane
Jordan Kinney
Sammy Kipketer
Carolina Klüft
| | |
| --- | --- |
| Full Name: | Werkesh Kidane |
| Sex: | Female |
| Born: | 21 November 1981, (Axum, Tigre Province, Ethiopia) |
| Event: | 5000m, 10000 m, Cross- country |
Personal Bests:
| | | | |
| --- | --- | --- | --- |
| 3000m | 8:41.58 | 2002 | Monaco |
| 5000m | 14:43.53 | 2002 | Berlin, Germany |
| 10,000m | 31:43.41 | 2001 | Villeneuve d'Ascq |
1997
As a 15 year old, Worknesh was 13th in the Junior race at the World Cross-country, the only time that she has finished out of the top 10.
1999
Worknesh was World Junior Cross-country champion in 1999.
2000
At 18 Kidane finished 7th at 5000m in the Sydney Olympics (14:47.40).
2002
She was runner up last year in the senior 4km at the World Cross-country.
She improved her PB at 5000m to 14:43.53 (5th fastest of 2002), finishing second to Berhane Adere (Ethiopia) in the Berlin GL meeting.
Late in the year she won the Great Ethiopian Run 10km in course-record time.
2003
Pre-race - World Cross-country - After two wins, a 2nd and a 4th in four weeks on the European cross-country circuit, she returned home for the Ethiopian World Cross-country trials. There she won the 8km race by 10 seconds, pulling away from a strong field in the final kilometres, and the next day, only slightly weary, finished a strong 2nd in the 4km.
She has been named to both teams, and could well come away with two individual medals in Lausanne.
Workesh Kidane took the Long Course (8km) title at the World cross Country.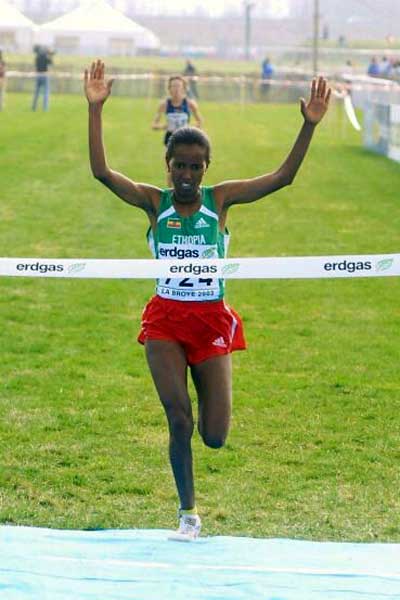 W Kidane - World Cross-country 2003
2004

World Cross Country - Workesh Kidane (848) took the Bronze Medal in the Senior Women's Long Course 8km race on Saturday in a time of 27:34. Ethiopia took the Team Gold medal with 26 points.

World Cross Country - Workesh Kidane (848) was 4th in the Senior Women's Short Course 4km race on Sunday, in a time of 13:14. Ethiopia took the Team Gold medal with 19 points.
2005
Ethiopia's Werknesh Kidane was third in the women's 8km race at the World Cross Country.
Great North Run 2005
The women's race was won for the first time by an Ethiopian, Derartu Tulu claiming an emphatic victory leading from start to finish to cross the line in the world leading time for the year of 1:07.33.
The two-time Olympic 10000m champion was part of an early leading group that included fellow countrywoman Worknesh Kidane and Berhane Adere. Edith Masai last year's runner-up and Catherine Ndereba led the Kenyan challenge, with Jelena Prokopcuka of Latvia a former third placer in the world's biggest half marathon, also a contender. But after eight miles, Tulu with only her colleagues having stayed with her, injected extra pace to draw away, taking Kidane with her but Adere was unable to respond.
Tulu, going even quicker, at the nine-mile stage dropped Kidane and although she was clearly struggling towards the latter part of the race, she maintained her form to claim victory. Kidane, contesting only her second half marathon was second in 1:08.09 just holding off the fast closing Prokopcuka who ran a tremendous last three miles, by two seconds.
World Cross-country Career:
1997 -

13

th

,(Jnr) team

bronze


1998 -

Bronze

(Jnr), team

gold


1999 -

Gold

(Jnr), team

gold


2000 -

9

th

(Jnr), team

silver


2001 -

5th

(4km), team

gold


2002 - ? (8km)

- Silver (4km), team gold

2003 - Gold (8km)

2004 - Bronze (8km), team gold

- 4th (4km), team gold
Back to About the Athletes Home