Athlete List
Most Visited:
Kelly Sotherton
Kelly Holmes
Paula Radcliffe
Yelena Isinbayeva
Emily Pidgeon
E
Sian Edwards
Rhea Ellis
Hannah England
Jessica Ennis
| | |
| --- | --- |
| Full Name: | Rhea Ellis |
| Born: | DOB |
| Age: | ? |
| Lives: | LIVES |
| Event: | Cross-country, Sports:hall, middle-distance |
| Club: | Southport Waterloo AC |
| Coach: | ?NAME OF COACH? |
| County: | Merseyside |
2004
Superb day's XC at Chorley
The small sign on arrival read "What better way to spent Valentine's Day than running a Mid Lancs cross country race!". Rhea Ellis enjoyed this course although she did get her hands dirty when she fell on the first stream crossing. But that didn't stop her leading all the way and winning in 12:12, 150m ahead of the next girl.
Merseyside County schools championships
In the Junior Girls race, Rhea Ellis was again the star attraction. As the pack settled down after a long fast start, Rhea emerged as the front runner. Over the next two laps she gently eased ahead and with no-one able to take her on she won the race, and the series, comfortably by 40 metres!
Rhea takes medals at Sportshall Final
Rhea long jumped 5m 03 but it was in the speed bounce that she was thought to be a medal prospect and, indeed, with a PB of 79, she took a silver medal.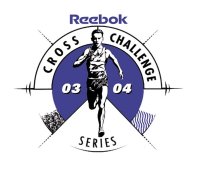 Reebok Challenge European Trials in Liverpool. The under-13 girls race was over 3K and Rhea Ellis was holding her own amongst the best in the country, covering the distance in 10:28, that's 45 secs faster than she ran the same course last year!
Southport Waterloo AC - Individual 'Bishops' were awarded for the top scorers in each category, and Rhea Ellis won the award for the cross-country. She also scooped the club award for the Junior Athlete of the Year, an improved athlete award, for improvement in 1200/1500m on the track from grade 4 to grade 1 in a single season.
Its a Northern bronze for Rhea
This year's North of England AA cross country championships were held over undulating parkland in Sherdley Park, with support from St Helens Council and local athletic clubs. But it was a testing course with hills - sorry, hills are only in the mind! - and a fair bit of mud. As this year's emphatic county and county schools cross country champion, Rhea Ellis was a good medal prospect and so it proved when she took bronze in the under 13 girls' event.
After a very fast start, Rhea settled into the race and worked her way up to 6th after the first lap. Towards the end of the second, with about 400m to go, she had worked her way up to 4th and then made her break, holding on to 3rd place with two other girls chasing her all the
way to the line. She finished the 3km course in 12 mins 51. Rhea has led from the front in almost all her races this season and in the different conditions today showed great tactical awareness.
Merseyside Country Championships- Rhea Ellis was the firm favourite going into the 3km under 13s race and she was well up for it! By the half way stage she had built up an impressive lead and finished in 12:50, nearly a minute ahead of the second placed girl - (that's about 300m!)
English National XC Champs
The under 13 girls race over 2 short laps for 3K. Towards the top of the hill on the first lap, Rhea Ellis was lying about 20th and by the end of lap 1 was up to 8th place. She ran perhaps the best race of the season finishing 4th in 11:49, beating Stockport's Lucy McLoughlin and Alexandra Wheatman from Scarborough, who won this year's Northern XC Champs, in the process.
ENGLISH SCHOOLS
Rhea Ellis took part in the junior Girls' race at English Schools. As the girls charged down the hill at the start, it was a delight to hear the commentary coming over the PA system, pointing out the runners to watch in this race. "..and Merseyside's Rhea Ellis, number 404, 6th in last weekend's inter-counties and 4th in the Nationals."
The fast downhill start was not ideal for Rhea but she tested herself against the older girls and gave everything to finish brilliantly in 29th place, and 1st Merseyside counter.
NOTTINGHAM Inter-counties Cross-country

Rhea has had an outstanding cross country season and was expected to do well here today but even the best laid schemes sometimes go wrong!

No sooner had they left the starting pens than Rhea found herself boxed in and was well adrift of the leaders as she came passed the first kilometre mark. But she fought back well and gradually got herself back into contention. With half a kilometre to go, she was sitting just behind a pack of girls in about 15th place and powered through to finish 6th overall, in 13:43, and 1st Merseyside counter.
At the AAAs Young Athlete road relays in Sutrton Coldfield , Rhea Ellis recorded the 11th fastest time of the day finishing the 1st leg in 14:55 for 4th place.
Northern Junior T&F Champs
As under 15s were only allowed to run 3000m on the track from last year there was no race for under 15 girls and so Rhea was entitled to run in the under 17 women's event. And what a race she had! After the first 200m she had settled into second place and stayed with the leading group throughout the race, finishing just outside the medals in 4th place in 10:39.29, a personal best time by 21 seconds, a new club record for all our female age groups and just 9 secs off a grade 1 time for an under 17 women. Rhea is, of course, only a first year under 15 girl!
2005
| | | | | |
| --- | --- | --- | --- | --- |
| 12th March | English Schools XC | Norwich | Junior girls | 65th |
2006
| | | | | |
| --- | --- | --- | --- | --- |
| | | | | |
| 25th March | English Schools XC | Mansfield | Intermediate Girls | 21st |
2007
| | | | | |
| --- | --- | --- | --- | --- |
| 27th January | Northern XC | Heaton Park, Manchester | U17 | 19th |
| 24th February | UK Inter-Counties XC | Woollaton Park, Nottingham | U17 | 16th |
| 24th March | English Schools XC | Temple Newsham, Leeds | | |