| | |
| --- | --- |
| Full Name: | Louise Damen |
| Born: | 12th October 1982 (Winchester) |
| Age: | 24 |
| Lives: | Winchester |
| Height: | 1.65m |
| Weight: | 45kg |
| Event: | Long distance, Cross-country |
| Club: | Poole Runners (Previously Bournemouth AC) |
| Coach: | Nick Anderson (Previously Mick Woods) |
| University: | Loughborough |
Personal Bests:
| | | | |
| --- | --- | --- | --- |
| 800m | 2:10.1 | 13 May 2000 | Bournemouth, GBR |
| 1500m | 4:28.38 | 31 May 2003 | Manchester, GBR |
| 3km | 9:26.62 | 31 May 2003 | Manchester, GBR |
| 5km | 15:53.11 | 7 Aug 2003 | Solihull, GBR |
| 5kmR | 16:04 | | |
| 5M | 26:34 | 2003 | Ruislip, GBR |
| 10km | 33:28.61 | 12 Apr 2003 | Athens, Greece |
| 10kmR | 33:58 | | |
1999
Louise was second in the English Schools Intermediate Girl's Cross-Country (14:54).
2000
She had an excellent season on the track in 2000, when she made her junior international debut indoors against Germany and France at 1500m, and won Senior Girls English Schools and Southern titles at 3000m, at which she reduced her best time from 9:54.52 to 9:36.5. She had thus won English Schools titles for four successive years.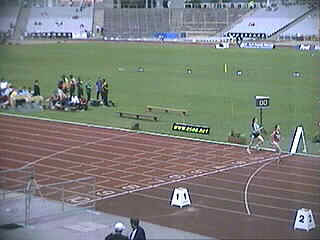 English Schools Track and Field Championships 2000, 3000m Final. Time: 9:42.93
2001
Louise won the CAU Under-17 cross-country title and returned to Wollaton Park to beat a highly talented field to take the Under-20 race.
2001/2
In the 2001/02 cross-country season, she was second of the British silver medal team at the European CC, third in the British Universities CC and the first British finisher, 13th, at the World Universities CC.
2002
She took 20 seconds off her 5000m best to win the British Universities title in 16:35.9 and another chunk when 7th at the Commonwealth Trials in 16:24.13.
She was fourth in the National U20 in 2001 and then the second Briton and fifth European in the World Juniors over 3000m. She improved her PB to 9:28.61 at Loughborough and was 3rd in the AAAs U20s and 12th in the European Juniors.
She won at 3000m in both U23 internationals in the summer and ended the year with her senior international debut in the European CC and a PB 33:58 for 10km on the roads.
2003
Louise is now at Loughborough University, studying PE and sports science.
Louise won the British Universities CC, was 3rd in the CAU CC and won the National Junior CC, before maintaining her impressive form with a British U23 best for road 5 miles, 26:34, when she won at Ruislip. She was then delighted with her 30th place (11th European) at the World CC, and she achieved the European U23 qualifying standard with 33:28.61 when 21st in the European 10,000m Challenge.
She took two seconds off her 3000m best with 9:26.62 at Wythenshawe and over 13 seconds off her 5000m best at Eton before taking the European U23 10,000m bronze in 33:29.82. She then made a similar improvement over 5000m with 15:53.11 for second at Solihull.
Saturday 22nd February saw over 3000 athletes congregate on Parliament Hill fields on Hampstead Heath, London for the 2003 Saucony National Cross Country Championships. After a ten year gap, the National returned to one of Britain's most infamous cross country venues. In the under 20 ladies, Louise Damen showed the form which took her to third in the senior race at the Inter-counties champs and selection for the World Championships in Lausanne. Damen (Bournemouth AC) led home Hoban (Wakefield) and Baker (South London) by forty and fifty seconds respectively.
2004
Louise won the South of England Cross-country Senior Women's Race at Parliament Hill, London, in a time of 31:03.
At the English Nationals, Louise took the silver: 'Spectators did not realise was that Damen was over-charged on adrenalin; and it showed as Dagne transformed that deficit into a 120m winning margin. Damen berated herself mercilessly afterwards: "I was the schoolgirl of the field. I was wearing a hand-written number because my club's entry seems to have missed the deadline. My red gloves clashed awfully with my yellow vest. I fell over and cut my knees on the way to the start. And I've even got my hair in pigtails! So I'm as pleased as I can be. I didn't quite have the legs at the end: this is a tougher course than Parliament Hill – especially psychologically because you know you have a climb for the last 800m to the finish. But it was a good solid run. The Inter-Counties are the main target and hopefully this helps my cause for team selection."'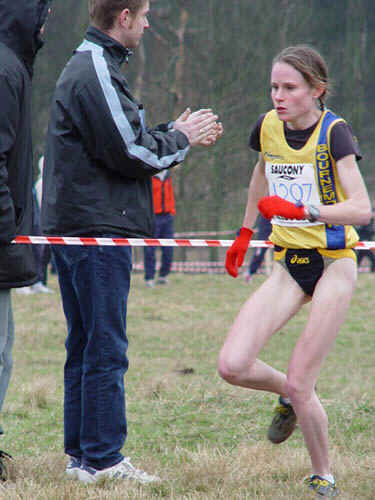 Louise Damen at the English Nationals 2004
| | |
| --- | --- |
| | World Cross Country - Louise Damen (860) was 22nd in the Senior Women's Long Course 8km race on Saturday in a time of 27:34. Great Britain took the Team Bronze medals with 74 points. |
Louise Damen (Bournemouth AC) was sixth in the 10000m in 16:19.58 in the Olympic trials in Manchester.
Pre-race: Also in the field is Louise Damen (Loughborough Students) who was part of the Bronze medal winning Norwich Union GB Women's Team at this year's IAAF World Cross Country Championships.

Louise Damen Senior Women's race in Birmingham.
| | |
| --- | --- |
| | Louise Damen was 7th in the Senior Women's at the Reebok Cross Challenge race in Liverpool. |
2006-7 season
| | | | | |
| --- | --- | --- | --- | --- |
| 28th October | UK Challenge | Birmingham | Senior | 8th |
| | | | | |
| | | | | |
| January | Hampshire XC Championships | Basingstoke | Senior | Disqualified for running the wrong course |
| 27th January | Southern XC | Holkham Hall, Norfolk | Senior | 1st |
| 24th February | UK Inter-Counties XC | Woollaton Park, Nottingham | Senior | 2nd |
| 10th March | National XC | Sunderland | Senior | 3rd |
2007-8 season
| | | | |
| --- | --- | --- | --- |
| 24th November | UK Challenge | Liverpool | 3rd |