Athlete List
Most Visited:
Kelly Sotherton
Kelly Holmes
Paula Radcliffe
Yelena Isinbayeva
Emily Pidgeon
M
Tiffany Markham
Eilish McColgan
Conor McNulty
Jonathon Moore
Charlotte Moore
Tracey Morris
Craig Mottram
Ashleigh Murray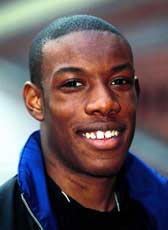 | | |
| --- | --- |
| Full Name: | Jonathon Moore |
| Sex: | Male |
| Born: | 31st May 1984, (Birmingham) |
| Height: | 1.80cm |
| Weight: | 74kg |
| Club: | Birchfield Harriers |
| Coach: | Aston Moore (father); formally with Ted King |
| County: | West Midlands |
Personal Bests:
| | | | |
| --- | --- | --- | --- |
| LJ | 8.03 | 18 May 2002 | Loughborough, GBR |
| TJ | 16.43 | 22 July 2001 | Grosseto, ITA |
Family Background
Jonathan's father, Aston Moore, was one of Britain's greatest ever triple jumpers, winning Commonwealth bronze in 1978 and 1982 and the AAA title in 1976, 1978 and 1981. He had bests of 16.86 and 17.02w in 1981. As a junior Aston won the European Junior title in 1975 and set a British junior record of 16.24 that year, when he was 19.
Yet Jonathan, while still 16, jumped 16.32 at Loughborough in May 2001, and will still be a junior in 2002 and 2003.
1999
In 1999 he won the English Schools Intermediates title with 14.79 and then made a startling improvement to 15.46w to win the Schools International, achieving exactly the same mark to take the AAA U17 title.
2000
In 2000 he improved his long jump best from 6.58 to 7.45 in May and then to 7.46 to win the AAA U17 title, and at triple jump he won all the titles on offer: English Schools (15.91), Schools International (15.62), AAA U17 (15.67) and Commonwealth Youth Games (16.02). The 15.91 and 16.02 were new British under-17 records.
2001
Jonathon produced some startling long jumping at Bangor with (strongly wind-assisted) jumps of 7.79 and 7.77. Even better was his 7.99w (+3.1) to win the AAA U20 title and he produced a 'legal' best of 7.68 to win the English Schools title. He was 2nd at the Mannheim Junior Gala with 16.03 at the triple jump and at that event took the gold medal at the World Youth Championships with 16.36 and the silver at the European Juniors with 16.43. He continued his wondrous progress with a 7.98 long jump, which equalled the British junior record and which was just 3cm short of the best ever by a European 17-year-old, to win in the Junior International against France at Dôle on 29 July and he won at the junior international against the USA in 7.93.
2002
In 2002, he improved the British junior long jump record to 8.03 when 3rd at Loughborough and retained his AAA U20 long jump title with 7.57w, but ruptured his patella during the triple jump, and this very serious injury, which necessitated immediate surgery means that he misses both the Commonwealth Games and World Junior Championships.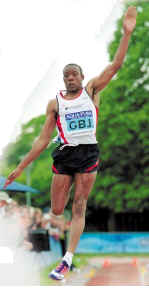 He was nonetheless elected as British Junior Male Athlete of the Year.
2003
Jonathan returned in encouraging form with second in the Loughborough long jump at 7.51 and after three more competitions at this level, including a win in the junior international against Italy, soared out to a wind-aided 7.92 for fifth at Gateshead. Unfortunately he had three no jumps at the European Juniors, but he had a good end-of-season win at Merksem with 7.80w/7.76.
2004
Jonathan was second in the Men's long jump with 7.38m, just 2cm ahead of the 3rd place athlete at the Norwich Union World Trials in Sheffield on Sunday 8th Feb.
The opening day of the Norwich Union World Junior Trials and AAA Under 20 and Under 23 Championships at the Bedford International Stadium on Saturday 26 June.
Under 23 Men's long jump: At the venue where he suffered a serious knee injury two years ago, Jonathan Moore (Birchfield Harriers) continued his return to top form by soaring to a Championship Best of 7.75m in the first round. Purists will note that the wind speed was a slightly illegal +2.9 – though the result sheet will not also show that the rain was tippling and the runway wet. Nor will the bare facts convey the heartache he has overcome since the injury halted his bid for 2002 IAAF World Junior Championships glory. His winning jump is 28cm less than the best distance he achieved before his injury. But the record – just a couple of centimetres further than the winning distance achieved by Alex Hall (Woodford Green) last year – represents another step in the long ladder back towards the top.
2005
NU European Indoor Trials 13th Feb - Triple jump:
20-year-old Jonathan Moore (Birchfield Harriers) got his teeth into his first triple jump competition since a knee injury wrecked his hopes of medals in both horizontal jumps at the 2002 IAAF World Junior Championships.
Moore moved into second place with an opening effort of 15.80m and added another 9cm in the third round without ever being happy that he had shaken enough rust off his technique.
World Youth Championships
Jonathan Moore (Birchfield Harriers), the fifth-best qualifier for the long jump final (7.63m SB), finished 11th with a modest 7.35m.
"I messed up big time – blew it once again," he said. "I started off with a rubbish jump [7.35m]. Went for it in the second round and fouled. Then I had to jump around 7.70m to make the final eight. It was all or nothing and I came out with nothing."
Back to About the Athletes Home